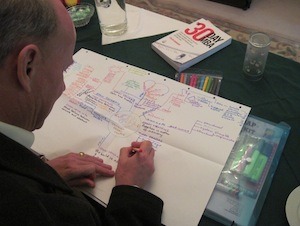 The world has changed. Things are hectic and everyone is in a rush to finish work-so your motivation for big-picture items like "get that MBA" suffers..
Mind Maps are a great help with motivation. They get the ball rolling and keep you focussed. Mind mapping helps you organise your ideas during the process of goal setting and then helps keep them in front of you–so you achieve more.
Here's how to weave mind mapping into your goal setting to boost your motivation and achievement.
Write Down your Feelings and Accomplishments – How do you feel about your accomplishments? There may be very few people who care at this point, but writing down your accomplishments is very important. Mind map them. You may make a number of different accomplishments in your life, but whether or not they actually mean anything will depend on how you look at them. if you have nothing to look at, then you may not remember certain accomplishments, and even if you do, you will not know precisely how far you have come. Mapping keeps them visible and memorable.
Set Personal Goals – Having goals is more than important. Knowing what your goals are is even more crucial. Map those goals. It helps you with the process of goal setting and it helps you follow them, because they are more memorable. As you track your progress, cross the old goals off one by one. You will find that your motivation increases and you will feel a sense of accomplishment. As human beings, we need that sense of accomplishment if we are to move on.
Know your Reasons – What is your reason for wanting to accomplish this goal? What exactly is on your mind? One of the biggest problems with accomplishing a goal is that most people will tend to forget why they started their journey in the first place. It is difficult to harness the emotions that you felt in the first place, but you could try to invoke them again later so that you can continue. Personal health might be considered a good reason, for example feeling better can give you more agility, and eating healthier can save a considerable amount of money.
Take Accountability – One problem you may have when it comes to accomplishing a goal is a lack of accountability. If you really want to accomplish something, you should make sure that the people around you hold you accountable. For example if you are trying to lose weight, have others pay attention to what you are eating. Having your friends and family ensure that you are sticking with your diet is a great way to move forward.
Take Breaks – You might have a plan, but if you want to accomplish your goals, you will need to make sure you take a break now and then. Doing this will help to reduce the level of stress that you might be experiencing, and it will permit you to get back on track when the time comes.
As you can see, there are plenty of things for you to consider when it comes to accomplishing a goal and changing the direction of your life. Yes, it is going to be fairly difficult, and you will probably find that you have to put in a considerable amount of work, but that doesn't mean it it will not be worth it.
After all, a change like this can alter the course of your life whether you are trying to raise your work ethic, lose weight, or simply improve your relationship with others. Though you might be working toward a single goal at first, you could expand to other goals as time goes by, and ultimately provide yourself the ability to change your entire world. If you are ready to make those changes and are prepared to make the necessary sacrifices, then now would be a great time to read through the above steps and start working them into your life.
Let's face it, a bit of sacrifice and work is a small exchange for a completely different life, and with the right motivation techniques, it can all be yours. Mind maps are a great way to boost your motivation, get going with your goal setting and speed the achievement of your personal goals.